Religious by Ne-Yo playing.
Thinking if I'm going to do my nails tonight so I can stop looking basic on the hands.
Mood for this blog is set. God is good ain't he though? Man. I sat down with a few friends yesterday and we spoke on some life lessons and just some truth that needed to be addressed. A topic that crawled out of no where was feedback and validation. Feedback is something we all need. I would think so at least. We need to know sometimes what others' views are about our actions and the way we do things. Makes us aware of characteristics and observations we may not have seen in ourselves. When people need validation, they need to know that everything they are doing is great and that they are the most awesome two feet walking on this earth. Sike. SOMEBODY LIEDDDDD!
Why do you we use other's opinions of ourselves to give us value? I used to be so terrible at this. Hon…ey. A man whether my man or just a stranger had to compliment something about me for me to see it. I still struggle with it to this day. I've gotten better with a lot of word and daily affirmations. That jank works. Sleep on it if you want. Calling yourself beautiful when you are bare and just in your rawest form and actually listing why… try it. I promise you will thank me later. Not just women can go through seeking validation. You guys know I have been in 1 Samuel for a hot minute. Saul is one of the folks who portrays that a man can seek validation just as hard as a woman.
Men have insecurities for dayssssss. My mom and best friend put me on to this. I was always around strong men who if they had insecurities, didn't let them be seen by the common eye. I started dealing with grown men and noticed, dang they have issues just like me. We bleed together. LOL For real though, we all have emotions and areas that we don't feel sure about. A friend told me that God made Eve for Adam. He needed Eve in his life for that love and support. We have to do that for our men so they aren't out here seeking validation for their manhood by hitting 10 million women and selling drugs because they feel like bringing money in the house is the only way for them to prove their manhood. I am around many men who feel like they have to prove their manhood. I know my apartment is mine. I pay the rent and I am the only one turning the key up in this piece. If someone says, "your butt ain't real", I'm going to tell them they dropped their crack pipe, and keep stepping. If you know who you are and what makes you, you never have to defend yourself against lies.
You are who you are because God made you this way. He knew every struggle you would go through. He gave Saul his own kingdom even though Saul was a jive turkey. You do not have to be perfect to walk in grace. Stop comparing yourself to others and expecting that everyone has to gas you up for you to feel important. God and you are the only ones who can make you whole. No friend, family member, or spouse can complete a creation that was already finished. I'm speaking about you! Duh! You were created. Finished. Done. People can only enhance you with feedback but not make you. Stop thinking you need to know everything or say "I knew that", "Yep that's what I said", "It wasn't my fault" and etc. Be ok with not being perfect or the best at everything. You are still dope as freak!!! The wisest people can say "I don't know".
BTW…
I JUST LEARNED HOW TO TWERK THIS WEEK! I'M SO DOPE! Lol I should have my own sauce. Cuz the sauce is so serioussssss! Lol Man a Christian woman who can twerk is a blessing to her future husband. Now don't hit up the BoatRyde (local club) this weekend saying you got that mess from me. Lol Not my fault. I love Jesus…AMEN! LOL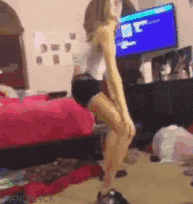 Love God, Love Yourself
Love Krys
Word of the Blog: 1 Samuel 24-25…Dude's wife came through for him… didn't help too much lol but aye, she got a new boo from it.